Global M2M Connectivity
IoT SIM Card
Whether it's 2G, 3G or 4G, be it LTE-M, NB-IoT or 5G Connectivity. Our IoT SIM cards give you instant access to more than 540 Cellular Networks in over 180 countries. We also offer eSIMs to help you futureproof connectivity.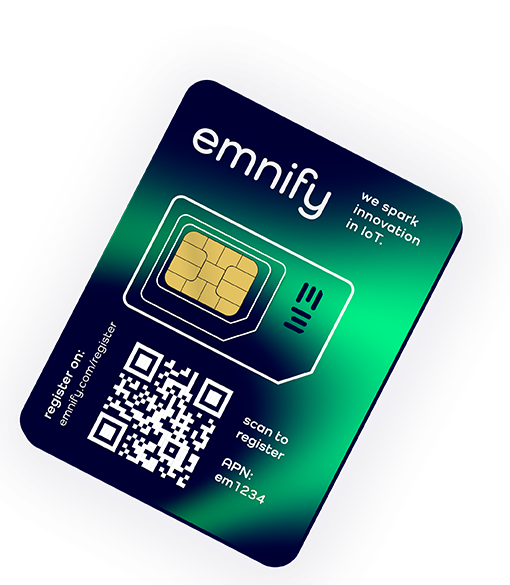 Connectivity at a glance
Highlights of our IoT SIM cards
emnify's carrier-agnostic IoT SIM cards enable your devices to connect to more than 540 cellular networks in over 180 countries. Whether you need 2G, 3G, 4G, LTE-M, NB-IoT, or 5G connectivity, we've got you covered.
Global Coverage
Whether you optimize for signal strength or data rates, your devices will select the best available network by default. If the preferred cellular network doesn't have service, your device automatically finds one that does.
Automatic Network Selection
Our carrier-agnostic IoT SIMs have access to multiple networks wherever you deploy. As you expand into new countries, you'll never need to negotiate or integrate with new providers. Using Multi-IMSI technology, our SIMs store up to five subscriber identities and switch profiles as needed. With eUICCs , you can provision SIMs with new profiles Over-the-Air (OTA).
Cloud-based Infrastructure
We globally distribute our mobile network infrastructure through public clouds. As you develop your IoT solution, we can provide simple, automated intra-cloud integrations using standard web services. Thanks to our distributed infrastructure, your transmissions use regional Internet breakouts, speeding up communications by routing your data through the closest servers.
Advanced IoT Security
Between our intuitive IoT monitoring dashboard and our specialized IoT SIM cards, your devices and applications benefit from crucial IoT security features like network-based firewalls, SMS firewalls, IMEI locks, VPNs, connectivity profiles, and more.
Pricing made for IoT
emnify has no minimum contract duration, and you can upgrade, downgrade, or pause subscriptions at any time. Our pricing is transparent, and you only pay for active SIMs. Choose a pay-as-you-go model or our data-pooling option to avoid unexpected costs and ensure you only pay for data your devices use.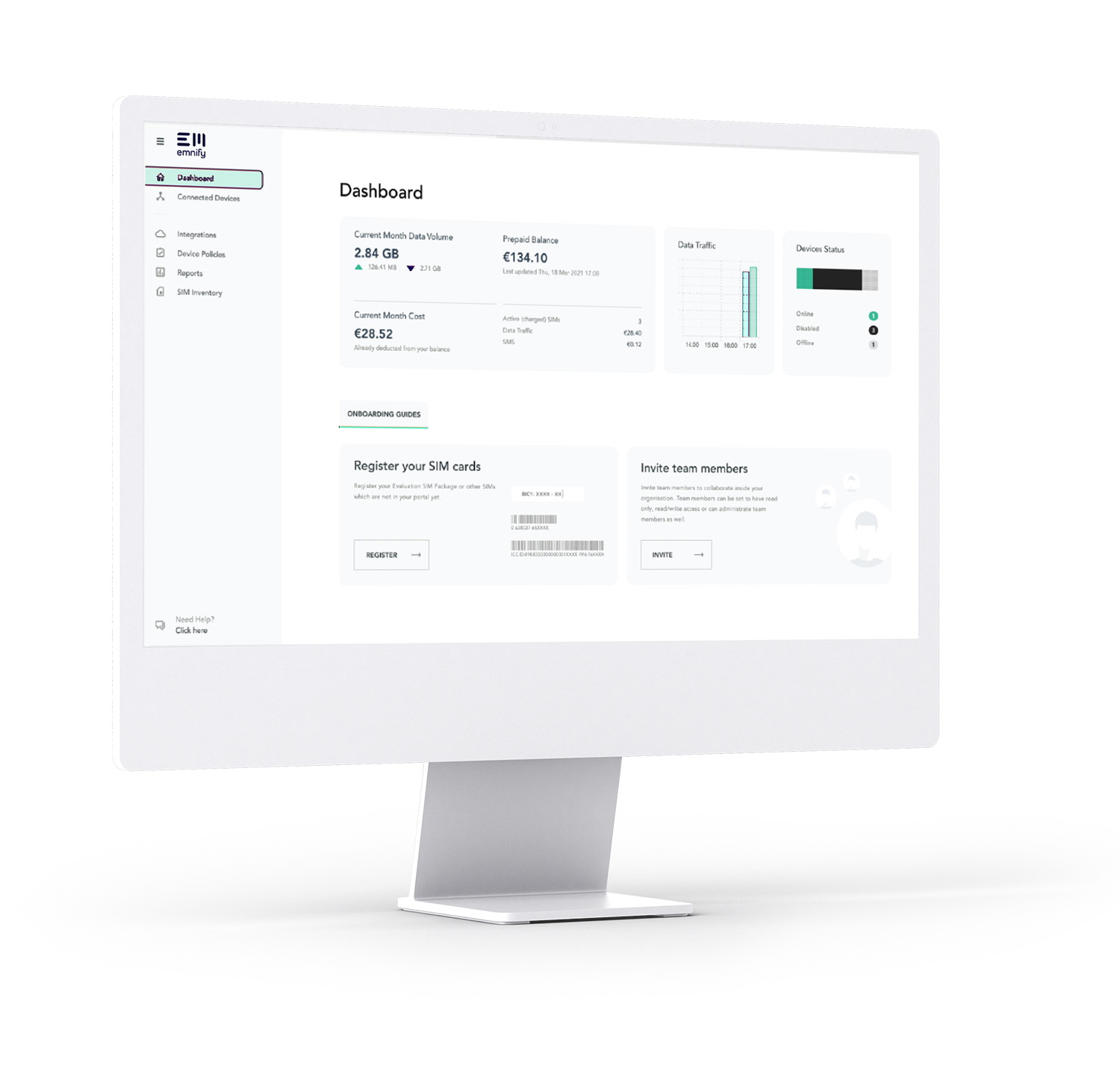 60 days, all features, one platform
Get a free test kit, which includes a SIM card, a prepaid data plan, and a 60-day free trial of emnify's platform.
Free Trial!
IoT SIM card Factors explained
Choose your
SIM card
Commercial grade IoT SIMs are our most affordable option for mass production. These are available in all form factors. You can select a dual-cut combination offering 2FF Mini and 3FF Micro form factors, or a triple-cut combination model, offering 2FF Mini, 3FF Micro and 4FF Nano form factors.
Specifications:
64KB memory
Supply voltage 1.62 to 3.3 V
Endurance rating:
500,000 cycles
Data retention:
10 years
Temperature range:
-25° to 85°C
Industrial grade SIM cards are more durable and resilient than standard SIMs, making them ideal for applications like smart manufacturing, smart transportation, and healthcare IoT. You can select from three different form factors: 2FF Mini and 3FF Nano plugin modules, and MFF2 soldered modules.
Specifications:
Plastic SIM cards in 2FF format 25x15mm
320KB memory
Endurance rating: 8 to 16 million cycles
Temperature range: -40° to +105°C
Humidity tolerance (JESD22-A110):
External clock frequency 1 to 10 MHz
Supply voltage 1.62 to 5.5 V
Data retention: 10 years @ 105°C, 15 years @ 85°C
Resistance against chemicals, torsional stress, corrosion, and salt mist
Embedded SIMs (eSIMs) get soldered directly onto the circuit board, giving them extra protection from environmental factors and potential tampering.
Specifications:
Size: 6x5 mm
320KB memory
Endurance rating: 8 to 16 million cycles
Temperature range: -40° to +105°C
Humidity tolerance (JESD22-A110): 85% at 85°C for min. 1000 hours
Supply voltage 1.62V to 5.5V
Data retention: 10 years @ 105°C, 15 years @ 85°C
Additional resistance against vibrations, moisture, corrosion, pressure, and salt mist
Find out how you can benefit from IoT Connectivity.
Talk to our experts!
Technology that enables devices to connect and communicate at scale.
Frequently Asked Questions
IoT – or M2M – SIM cards provide access to cellular networks to connect devices – with a management platform to monitor and operate device connections at scale. If you want two or more 'Things' (connected devices) to communicate with each other, then you need a data connection. In most cases, a standard cellular mobile SIM (or consumer SIM) won't cut it.
Consumer SIMs are bound to one local network operator and impose high roaming costs for data connections in foreign countries or outside a common tariff zone. IoT SIMs meanwhile give your devices access to multiple networks per country, a single tariff plan for global use, and flexible, usage-based contract terms. IoT SIMs also have more memory, durability and a longer lifespan than consumer SIMs.
IoT SIMs usually come with a web-based platform for remote SIM and connectivity management. They come in multiple form factors like the industrial-grade or MFF2 for durability against extreme environments – heat, corrosion, vibration.
Check out our detailed article on the differences between a consumer SIM and an IoT M2M SIM.
The price can start from less than EUR 2 for a commercial-grade emnify IoT SIM and less than EUR 3 for an industrial-grade emnify IoT SIM depending on your order volume. A discount automatically applies as more SIM cards are purchased within an order.
New users can get three emnify IoT SIM cards for free when signing up for an evaluation. Try it out for yourself, at no cost, for a 60-day trial.
Activating an IoT SIM card is straightforward and usually only involves a few simple steps. Often there is more than one way to activate a SIM – for example, either through a connectivity management portal, API or sometimes even a no-code solution.
IoT SIM cards can be registered and activated individually or in bulk – significantly speeding things up when connecting a large fleet of devices.
You also have an option to enable factory test mode where your devices are pre-activated and allocated with a fixed amount of free data traffic. During factory test mode, there is no SIM hosting fees and data charges, allowing you to test device connections during QA processes and ship preactivated devices to customers without incurring connectivity costs.
Once your devices use up the free data after being deployed, the emnify SIM cards automatically switch to "active", and only then your monthly billing starts. There is no need to activate your SIM cards when using factory test mode.
A connectivity management portal will typically provide access to real-time monitoring of all connected devices, tracking things like connection status, data usage and cost.
The emnify Portal also provides tools like connectivity reset and network blocklist that let you quickly troubleshoot connection issues and reduce Tier-II support tickets.
If you prefer monitoring device connectivity and data consumption directly from your existing operational dashboards and application, the emnify Data Streamer lets you do so. Learn more about Data Streamer or view our Integration guidesfor detailed instructions
eSIM is a SIM type that allows you to change an operator profile Over-the-Air (OTA) with remote SIM provisioning capability. The term eSIM could also be interchangeably used to indicate an MFF2 SIM type that gets soldered directly into a cellular device.
The emnify SIM card uses multi-IMSI approach and automatically selects the best-quality network at your device location. In cases where you want to select a specific operator for your devices, the network blocklist function allows you to proactively switch to your preferred network.
Yes. emnify IoT SIM supports multiple cellular technologies including LTE-M and NB-IoT. Visit our LTE-M coverage page and NB-IoT coverage page to find out where your devices can connect via these two technologies using the emnify SIM.
More about global M2M Connectivity for you
More products