This is the first post in a four-part blog series dedicated to informing four key decisions businesses are faced with in their IoT connectivity journey. The second post in the series outlines how to choose the right connectivity provider.
Anyone interested in technology and connectivity has heard of the "Internet of Things" (IoT). However, only a few can explain, what cellular IoT is all about. This type of networking has numerous advantages and massive benefits for enterprise. Simply put, IoT connectivity is a way to connect physical things (machines, sensors, even people) to the Internet. While conventional IoT networks are connected to the Internet via LAN and Wi-Fi, the peculiarity with cellular IoT is that the Internet connection is established via the same telecommunication networks that smartphones use. The innovative 5G network, combined with the existing infrastructural simplicity, make cellular IoT a strong driver in the world of ​​IoT connectivity.

Cellular IoT: New opportunities thanks to established network and battery technologies
Unsurprisingly, cellular IoT connectivity is currently experiencing strong growth. Why? Because mobile networks allow massive data flow and the network infrastructure is already globally spread - it's already available for telecommunication purposes, and no new physical infrastructure needs to be set up for cellular IoT connectivity purposes.
That said, for a long time it was the case that mobile-capable IoT devices consumed a large amount of electricity. As a result, use was limited primarily to applications that had access to electricity. In the meantime, the technology of cellular sensors has reached a point where adequate amounts of data can be transmitted even over considerable distances without massively discharging the battery. Considering the potential of 5G, in particular, the future looks bright for cellular IoT.
Combin

ing

cellular IoT and digitization technologies

:

I

ntelligent application scenarios
To bring the concept to life, consider the below case study.
Urban.io is an Australian IoT company offering low-cost, industrial-grade IoT devices and sensors that transfer real-time data from building systems, spaces and other remote field assets. It provides a wide range of sensors which help businesses improve maintenance activity, enhance fault response, and perform longitudinal analysis. To do this, it manages over 1000 SIMs integrated into its business processes. Urban.io used EMnify technology to create a fully virtualized connectivity management system.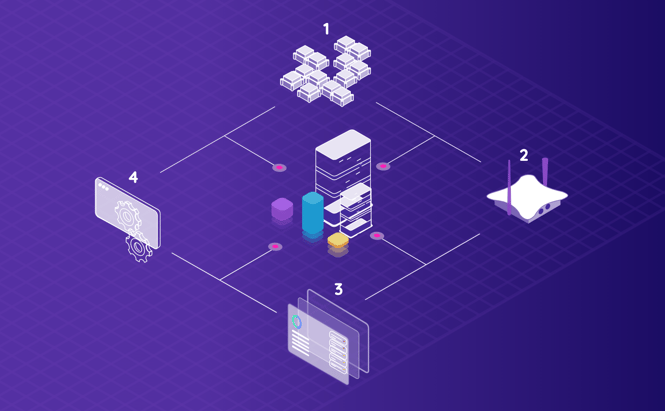 When it came to choosing a cellular IoT connectivity provider, Urban.io knew what it needed: easy integration, technical and operational flexibility, configuration customization options for differing commercial models, human technical support who respond quickly to requests and answer technical questions, and Amazon Web Services (AWS) built in to complement Urban.io existing AWS processes.
While Urban.io recognized that cellular IoT connectivity was the optimum way to replace existing infrastructure, we understand that it is not always obvious what solution best suits what business.


Is

c

ellular IoT

r

ight

f

or

your business

?
Digitization with IoT is already in full swing. But how can businesses know if this type of connectivity is the right choice? Uncertainty around this question prevents many from taking the first step. The decision-making process can be simple. Put the restrictions of your regional network infrastructure aside for a moment. Concentrate only on your business and consider the following three points. If you can relate to the following, then cellular IoT could be the way to future-proof your business:
If you know that digitalization will become an indispensable part of your company in the medium term, then you are probably already open to innovative topics, new projects and cutting-edge solutions.
Do you already use various mobile devices, remote employees, sensors and similar remote resources, or do you plan to use them in the future? If so, then you have already laid an essential foundation. With cellular IoT, you create both vertical and horizontal integration within your business: harnessing the full potential of technology and intelligence that already exists across your supply chain by connecting it all via the Internet.
Are you familiar with the technical vulnerabilities that exist within in your current infrastructure? Efficiently addressing these pain points is a challenge faced by many businesses. Fortunately, cellular IoT connectivity presents new options and solutions to guard against external attacks, misconfigurations and even human error. With each new cellular-IoT-connected device, more transparency is created inside and outside of your business ecosystem. This surveillance fuels real-time, data-led decision-making, transforming vulnerabilities into opportunities.


Choosing the right cellular IoT solution
As fascinating as the possible IoT scenarios are, cellular IoT projects are often hindered by a lack of unified management and spotty coverage. At EMnify, our connectivity solution offers a guaranteed availability of 99.99% on services. With a mature M2M & IoT connectivity network coverage, you are always equipped with the best network and excellent reception across the globe. Our SIM cards always connect to the optimal network and in addition to the conventional network technologies (3G, 4G, LTE, etc.) they also support M2M & IoT technologies such as LTE-M. This so-called LPWAN technology offers numerous economic and technological advantages to make your company better.


Summary
Interest in cellular IoT connectivity will only continue to grow. That said, we understand it can be daunting to choose the right solution for your business. Our cellular IoT connectivity experts are happy to assist you in your decision-making in a free, no-obligation conversation.
To find out more, please join our live webinar on Wednesday April 22nd to discover the differences between wireless technology standards and which to choose to enable a successful IoT solution for your business. Sign up here. Even if you cannot make the webinar, but are interested in receiving the recording, feel free to sign up.