Multi-layered Security made easy
IoT Network Security
Defend your customers from cyber attacks, prevent data breaches, and protect your devices from being misused. We give you the security you need, so you can focus on the service you provide.
IoT Security at a glance
How to keep your IoT Network secure
Send data to authorized domains
Prevent cache poisoning by selecting the trusted DNS service that provides the availability you need. When using Cloud Connect, you can configure and utilize your cloud provider's private DNS service that isn't accessible over the public Internet, so only devices within your VPC can query for your domain.
Keep your SIMs from being misused
Thieves can remove physical SIM cards from IoT devices and reuse them in other devices. Whether they're committing identity theft, looking for free data usage, or attempting to access your application server, emnify's IMEI lock lets you restrict your SIM card to the first device it attaches to. Attackers can't tamper with your SIM card by inserting it into another device, and your IoT network remains secure.
Restrict communication with devices
Configure and manage policies to control who can communicate with your devices and how. Block unused mobile services and technologies, set data and SMS consumption limits, and limit SMS communication to trusted applications and peer devices.
Detect anomalies in real-time
Data Streamer enables you to monitor current device data consumption and signaling patterns to quickly detect anomalies caused by attackers, human errors, or device misconfigurations. Coupled with device, infrastructure, and application data, these real-time connectivity insights give you complete visibility into security holes and zero-day exploits on your IoT solution.
Close IoT Security Gaps
Cellular connectivity comes with built-in network security features. But there's a critical gap between traditional mobile networks and the cloud. When your devices and applications communicate, you don't want that data passing through the public Internet. emnify's IoT cloud integration bolsters your security by creating private connections between mobile networks and the cloud.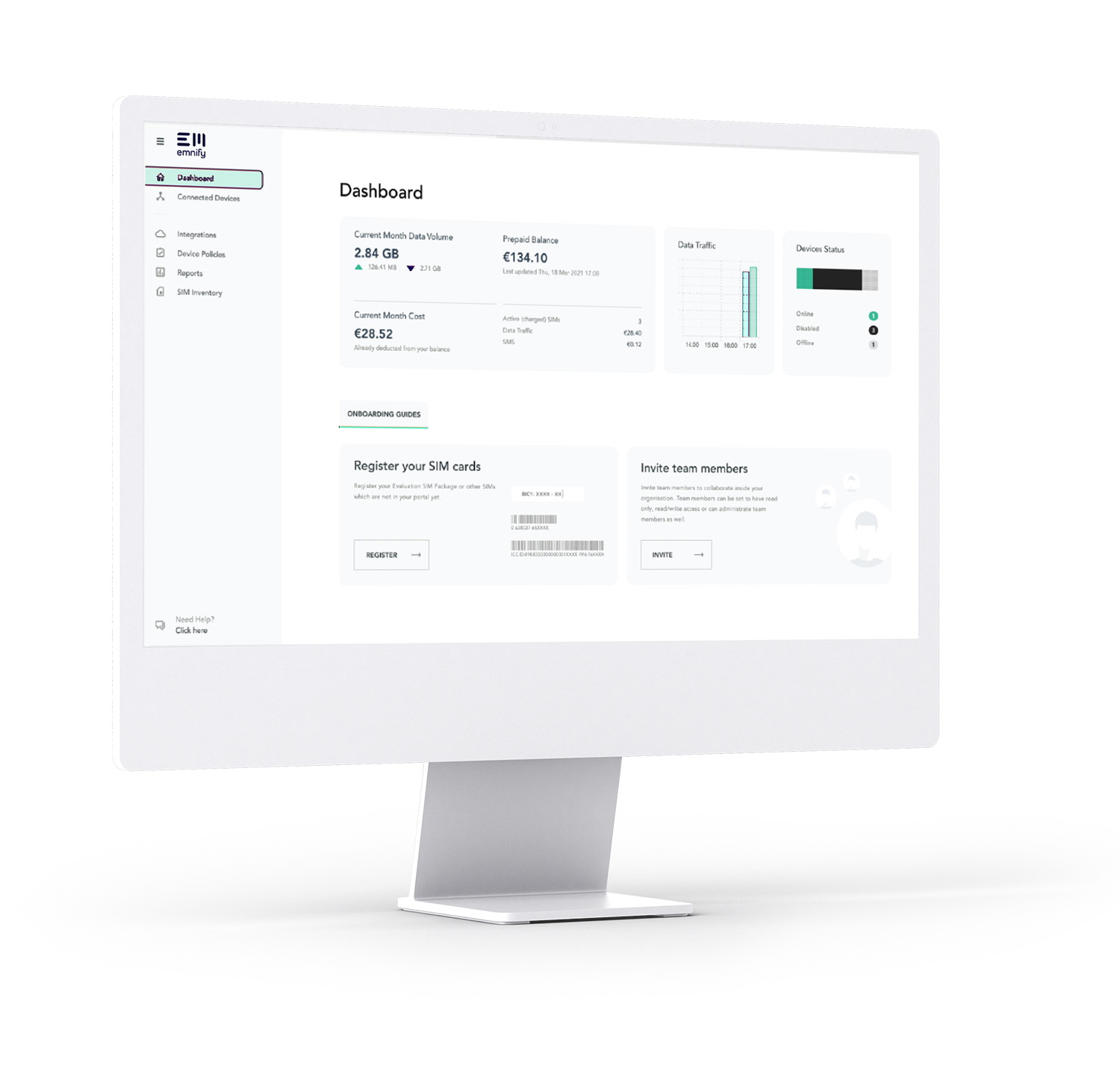 60 days, all features, one platform
Get a free test kit, which includes a SIM card, a prepaid data plan, and a 60-day free trial of emnify's platform.
Free Trial!
Intra-Cloud Connect (AWS)
Automatically create a private, intra-cloud connection between emnify and your AWS VPC using the Transit Gateway. Securely transport data from your devices to your AWS hosts without ever crossing the public Internet.
IPsec
Connect the emnify platform with your virtual machines on Azure, Google Cloud, or any other cloud services and on-premises systems using our managed IPsec service. Let your devices and application securely communicate over encrypted and redundant VPN tunnels.
All you need to scale
Your Business, Our Security Solution
Find out how you can benefit from IoT Connectivity.
Talk to our experts!
Technology that enables devices to connect and communicate at scale.
Frequently Asked Questions
Cellular networks automatically come with some advanced security features that make them well-suited for IoT. While any device can join a Wifi network, you can only connect to a cellular network with a compatible SIM card. Yet, with traditional cellular networks, the most significant security gap occurs when your devices communicate with the cloud. emnify closes this gap with Cloud Connect, keeping your connections private and secure.
emnify gives you complete control over your connectivity. If someone hacks your device, you can disable its connection to the network, implement additional restrictions, and even take direct control of the device. By integrating emnify with your other business applications and setting up alerts, you can detect anomalies and unauthorized network activity the moment it occurs—so you can react quickly.
Yes. emnify lets your support staff establish secure private connections to your devices via VPN, so you can always troubleshoot devices and provision SIM cards Over-the-Air.
No. This is a common misconception in IoT, and private Access Point Names. can make remote access far more difficult for your team, as it uses dynamic IP addresses. emnify lets you create VPN connections without private APNs and assigns each device a static IP address, so you can easily access them when you need to.
More about global M2M Connectivity for you
More products