Right from your IoT Stack
Manage, monitor, and secure device communication at scale. Our fully integrated IoT platform is cloud-native from the ground up, designed to seamlessly connect real-time connectivity data to your ESP, ERP, CRM, and other vital business applications you count on daily.
Integrate with Your Preferred Cloud Service
Keep Your Data Local and Compliant
Our integrated IoT platform is already deployed in all major cloud regions. We dynamically route your traffic to the nearest cloud servers, keeping your latency low, your data local, and your compliance spot on. These regional breakouts enable you to build multi-region IoT applications that comply with local data processing regulations around the world.
Automate Cloud Integrations to Save Time
Time is money and we understand that. With emnify, configuring IoT cloud integrations takes minutes—not weeks or months. Protect all communication between your devices and applications within your private network using our Intra-Cloud Connect or fully managed IPsec service. A single connection between your application server and the emnify platform is all you need to secure and access your devices.
Integrate Your Own Application
Want to build our functionality into your in-house applications? All of our communication management capabilities are available via API in the programming language of your choice. Automate billing, retrieve device status, and generate insights via your applications to accelerate your time to market and reduce test and development costs.
See Connectivity in Real-time
When networking issues arise, your support team needs tools to act quickly. Traditional cellular operators leave you in the dark, but with the emnify Data Streamer, you can visualize device and connectivity data within your other applications, so your support team can diagnose and resolve issues faster. Our integrated IoT platform gives you real-time connectivity data wherever and whenever you need it.
Close IoT Security Gaps
Cellular connectivity comes with built-in network security features. But there's a critical gap between traditional mobile networks and the cloud. You don't want that data passing through the public Internet. emnify's IoT cloud integration bolsters your security by creating private connections between mobile networks and the cloud.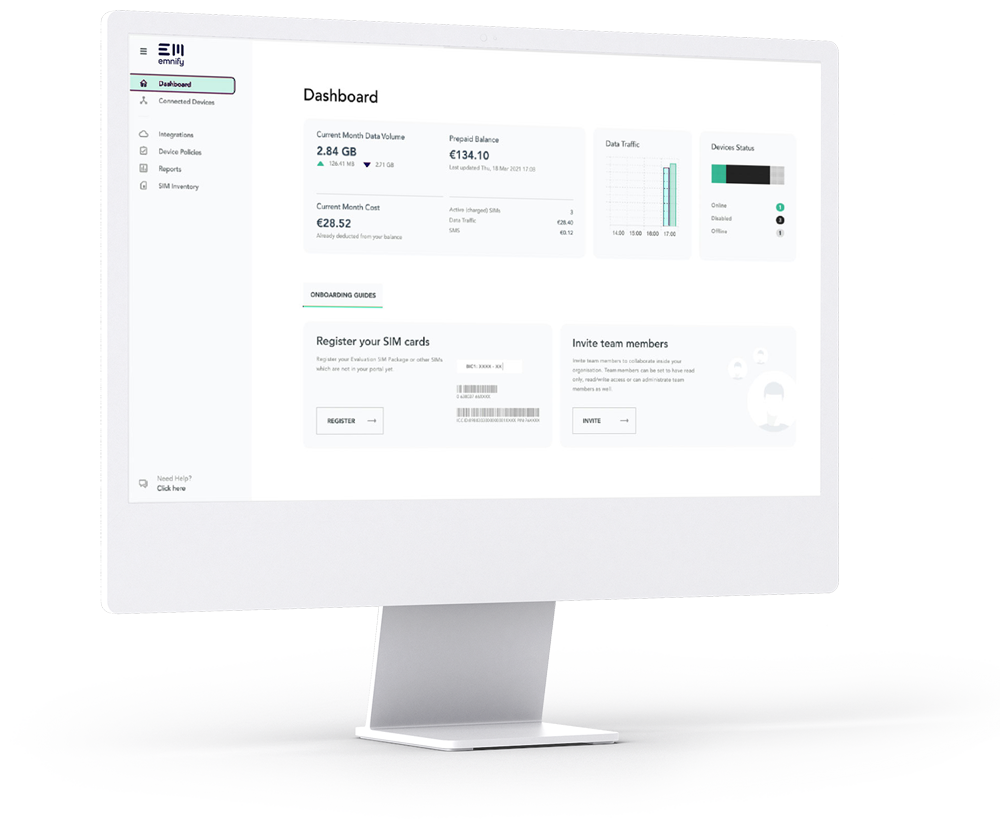 60 Days, All Features, One Platform
Unlock the full potential of IoT with our free test kit, which includes a SIM card, a prepaid data plan, and a 60-day free trial of emnify's platform.
All you need to scale
Your Business, Our Solution
18 major Cloud Service Providers supported
Whatever provider you use, we've got the IoT cloud integration you need. Our intuitive integration guides enable you to combine our communication platform with 18 major cloud service providers.
Getting started with API is easy
Our API is documented using the industry-standard Swagger (OpenAPI) specification. Users can browse the system functionality and even try out API calls against the live system with our interactive documentation. Our extensive API offerings let you develop your own connectivity management portal on top of our solution, offering REST API integrations and GraphQL for CRM, ERP, and other business-critical apps.
Find out how you can benefit from IoT connectivity.
Technology that enables devices to connect and communicate at scale.
Global M2M Connectivity
Find out more about our IoT Solution