The EMnify Data SIM IoT+ card provides customers with a cellular multi-network coverage that meets the rising demands of IoT use cases that require medium-volume data consumption. Benefit from a progressive solution that differentiates itself from the competition with the following:
Multi-Coverage, Multi-Countries. Connect to various international mobile network operators, including the European Union countries, plus Liechtenstein, Norway and Iceland. Within the European Union, the SIM provides connection to a growing network of coverage with new operators being added frequently.

Comprehensive and Manageable API

that Integrates with Current Business Workflows. SIM cards are managed on EMnify's purposefully-built and integrable API framework that consolidates networks and operators into one platform and is compatible with current business workflows.

Hosting Fee for Inclusive Data Volumes.

Start with scalable data volumes of 100MB to 5GB at affordable customer rates.
Pricing is Low-Cost and Simple. Modular pricing starts at 100 SIMs per 1GB.
Full Control, One Platform. With EMnify's connectivity management platform, the end-user benefits from full control over endpoint connectivity and data usage.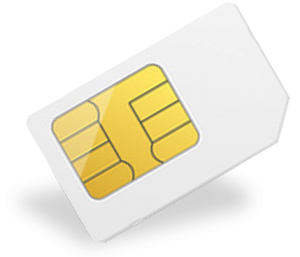 An insight look at EMnify Data SIM IoT+ card technology
Versatile, Reliable and Industry Compliant
Multi-Network SIM Card
EMnify enables you to host multiple network identities on a single SIM and to switch between them conveniently.
Coverage provided in the European Union's 28 countries, including Lichtenstein, Norway and Iceland
Best cellular signal coverage with the least cost for network usage
Industrial-Grade SIM Card
EMnify's industrial-grade SIM cards improve the reliability of your IoT deployments, are thoroughly tested and already pre-integrated before shipment.
The SIM card is suitable for harsh environments and withstand variations in temperature and humidity
An extended warranty protects the customer from unforeseeable circumstances
Connectivity management platform enables continuous and easily readable SIM health monitoring
The SIM card is thoroughly tested and pre-integrated before arriving to the customer
Embedded SIMs / MFF2 Card
EMnify provides an embedded SIM card, which is at the forefront of progressive technologies in the telecommunication industry.
The SIM card meets the eUICC compliant standard
A Root-IMSI provides the SIM card with global coverage
Lifecycle management of the SIM card is monitored through the connectivity management platform
Secure Data Provisioning
Data SIM IoT+ card as Industry Solution
The SIM card is a multi-industry solution for medium volume use cases needing extensive coverage and connectivity management. The most common use cases include:
4G data connection of on-site and off-site handheld radios at industry worksites
Smart metering during car races, collecting information on speed, position, and more in real-time
Real-time monitoring and syncing of security devices with instant notification of breach
Connecting manufacturing IoT components across larger distances and faster connectivity