IoT has touched almost every vertical imaginable, from automotive, smart cities, telematics, manufacturing, insurance, energy and healthcare. Analyst group Gartner predicts the global installed base of IoT endpoints will surpass 9 billion by 2021, with companies using high-speed, reliable cellular connectivity across global device fleets to connect sensors, conduct large-scale data collection, perform real-time analytics and automate decision making.
One of the primary drivers for IoT adoption among most enterprises is workflow optimization. A recent Ovum study showed cost reduction, improvement of business processes and enhancement of productivity as the top three drivers of IoT adoption among enterprises globally. As a result, it is essential for every aspect of the IoT value chain to be as effective as possible.
There is no IoT without connectivity
At the heart of IoT is the constant exchange of data between devices and a host of operational and control systems to enable manufacturers to provision, manage and troubleshoot devices, make decisions, perform analytics, and more.
The type of connectivity to use is one of the most important decisions any enterprise will make on its IoT journey. Connectivity has a huge impact on cost, efficiency, the type of analytics they can access and even the revenues they can generate. To do this they must evaluate IoT connectivity across a range of parameters, including ease of deployment and management, scalability alongside business growth, cost effectiveness, reliability and security.
Cellular connectivity: the pros and cons
Cellular connectivity is one of the most suitable models for any type of IoT application where the device is mobile, outdoors or out of reach of short-ranged options. Use cases are varied; ranging from connected cars to smart watches to parking meters.
Using a SIM card, devices connected over cellular technology work on the same principle as the mobile phone. Cellular connectivity is currently the most popular type of IoT connectivity, preferred for its flexibility, ubiquity and ease of implementation.
While it might be tempting to connect IoT device fleets through an incumbent mobile network operator, or a Mobile Virtual Network Operator (MVNO), this approach has several drawbacks:
Siloed infrastructure: Many mobile network operators today work with legacy infrastructure systems that don't connect seamlessly to the cloud, which is the home of the vast majority of IoT platforms today. Creating 'handover' systems that allow data to flow between the cloud and on-premise operator infrastructure is expensive and inefficient.

Centralized, non-autonomous billing and operations systems: Traditional MNO business models, billing support systems and operations support systems are created to keep control in the hands of the operator, requiring customers to go back to them for changes in data packages, tariffs, and to provision or deprovision their SIMs. This model is not an ideal fit for enterprises who need the highest levels of autonomy to provision, manage and troubleshoot their fleets of thousands or even millions of devices.

Local-only, not scalable: Most mobile operator networks are not global in scale. As a result, an enterprise must sign commercial and technical agreements with a different operator in each territory they expand to, leading to operational inefficiency and fluctuating data roaming costs.
Enterprises need a global network that has been custom-designed to meet the unique connectivity requirements of IoT.
End-to-end cloud-native networks – ideal for IoT
Today, the vast majority of IoT platforms are hosted in the cloud, with the majority of data transfers and storage undertaken there. By 2023, 10% of managed machine-to-machine (M2M) connectivity will be provided through hyperscale cloud providers, up from less than 1% in 2018.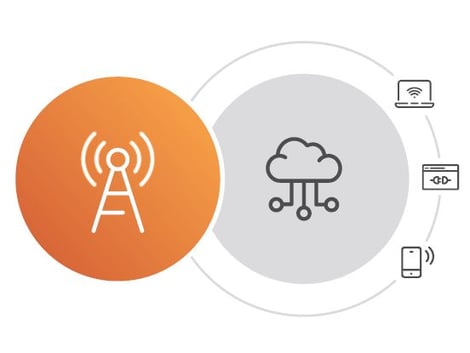 A number of first-generation of IoT deployments did not reach their full potential because they could not realize all of the benefits of the cloud. Even though applications, software and systems were hosted in the cloud, connectivity was still being provided through 'old-economy' cellular contracts and connections.
However, technology has now evolved to offer end-to-end cloud native network architecture, allowing enterprises to fully utilize the agility, scalability, resiliency, elasticity, and economies of the cloud in every aspect of running a connected business.
Cloud-native connectivity and services are the backbone of developing a connected business. They allow enterprises to overcome the limitations of traditional connectivity models, which are inflexible and expensive for IoT, prolonging time-to-market and time-to-revenue. A cloud-native environment is plug-and-play, avoiding the need for restrictive contracts and hardware-based APIs.
A cloud-native connectivity solution provides several benefits from the offset, including:
Ease of establishing connections between devices, applications or systems, leading to improved operational efficiency. The connectivity solution can also be easily integrated via API into cloud-based platforms that are popular for IoT use cases and more, such as AWS, Azure and Google Cloud.
Reliable, low-latency connectivity to a cloud-native, highly reliable core network that spans globally, with multiple networks in each country, making it easy to scale up across national and network borders.
Network traffic peaks can be absorbed with additional on-demand resource, allowing enterprises to manage cyclical demand variations, and achieve autonomy and self-management via easy-to-use management portals.
Highly cost-effective thanks to features inherent to cloud environments such as microservices, network function virtualization and software-defined networking. These features make networks more responsive and cost-effective to manage, provision, deprovision and troubleshoot via software. Additionally, they allocate processing power only when required, saving hardware, disk space, energy – and cost.
The type of connectivity to use is one of the most far-reaching decisions in an enterprise's IoT journey. End-to-end cloud-native connectivity overcomes many of the barriers of traditional telecoms and allows business leaders to achieve fastest time to ROI.
The EMnify solution
EMnify provides a global end-to-end cloud-based connectivity that is purpose-built for IoT. EMnify's services offer on-demand connectivity and a virtualized cellular platform that offers enterprises with all the tools and resources they need to launch and manage connected services at a local or global scale. For more information on EMnify's cloud-native IoT core network, click here.