Cloud-based technologies and service models are changing the way companies are doing business and drive innovation. Fundamentally, there are three main categories of cloud computing services: Infrastructure as a service (IaaS), software as a service (SaaS) and platform as a service (PaaS). This article focuses on Software as a Service (SaaS).
SaaS is a service model in which a provider hosts the application and makes it available to customers over the Internet. This is a significant departure from the on-premises software delivery model allowing organizations to outsource most of the IT responsibilities. With its immediate availability and a cost-effectiveness (pay-as-you-go model), SaaS enables enterprises to scale the infrastructure up and down, depending on their needs, without setting up additional hardware and infrastructure, resulting in more flexible and scalable operations with dramatically reduced deployment times. Enterprises also have the ability to integrate most of SaaS applications with other software using application programming interfaces (APIs).
Enterprises can finally abandon time-consuming tasks such as the procurement, set up and maintenance of servers, updating applications or operating systems, as well as the deactivation and disposal of hardware when it is out of date. Additionally, SaaS functionality complements the infrastructure services, ranging from billing, monitoring, log access, security services, backup, recovery and more.
Thanks to its easy web delivery model, with SaaS, providers manage all of the potential technical issues such as data, middleware, servers, and storage, while businesses can simply streamline their maintenance and support.
For an enterprise the key benefits of this are obvious:
Fast time-to-market with a low TCO
Scalability and flexibility
Focus on business growth
The goal of any company is to grow. With choosing cloud SaaS you can be sure that your technology is up-to-date and can scale up to meet your business requirements. This will allow you to allocate the budget and resources in a smart way and focus on innovation of your IoT applications and services.
EMnify's Infrastructure in the Cloud
EMnify is a Software-as-a-Service (SaaS) company, enabling cellular IoT connectivity. We identified the need for universal connectivity, where everything can be connected anywhere, anytime, in a transparent, accessible, and economical manner. The first to provide a mobile core infrastructure as a cloud service, EMnify enables secure, reliable and scalable connectivity, in ways previously impossible. We work with Amazon Web Services (AWS) to ensure our connectivity solution and cloud services both deliver a world-class experience.
The architecture of the EMnify infrastructure follows the concept of NFV (Network Function Virtualization) and virtualizes the entire core network functions of a mobile network.
It is designed for public and private cloud environments and can run on OpenStack, VMware and AWS. This technology enables the auto-scaling of system and network resources based on real-time subscriber activity. The whole infrastructure is auto-deployed including network access, VPN gateways, firewalls, applications and services.
We have deployment scenarios for every customer need:
Cloud Hosted
With EMnify, you can connect your IoT devices and applications through a state-of-the-art, multi-tenant, globally scalable, and reliable network setup. The globally distributed structure offers high guaranteed SLA, regional internet breakouts and the possibility to scale up and down on-demand.
Hybrid Cloud
In our hybrid cloud approach, the data transport layer is deployed locally, while the rest of the infrastructure stays in the Cloud. This is a benefit for domestic deployments with high bandwidth requirements.
Network-in-a-Box
Due to regulatory requirements, customers may be required to host critical infrastructure in their own country or region. In these cases, we deliver the EMnify services in a 'network-in-a-box' fashion, to be deployed locally as a fully self-sustained system.
Our cloud-based services offer on-demand connectivity and a virtualized cellular platform that provides more tools and resources to the customer than a traditional mobile operator. We are uniquely positioned to meet the wide-ranging needs of enterprises, system integrators, and CSPs.
Use Case: Telecom Liechtenstein
Telecom Liechtenstein, a fast-growing telecommunication company, wanted to modernize its services to offer ground-breaking IoT technology to its clients and provide cutting-edge connectivity services.
In the past, Telecom Liechtenstein used a traditional mobile core infrastructure. The company needed to upgrade its SIM management capabilities to support different use cases ranging from supply chain management, asset tracking to smart metering.
The decision was taken to upgrade its existing infrastructure and for the first time offer its customer's cloud-based cellular IoT connectivity. EMnify transitioned Telecom Liechtenstein from traditional infrastructure to a cloud-based, purpose-built mobile core in only three months.
The result was a cloud-hosted system that is robust, flexible, and benefits from new features that EMnify deploys on a regular basis. As well as enabling advanced cellular IoT connectivity, EMnify moved a significant number of productive SIMs seamlessly from legacy infrastructure to the cloud. Download the full case study.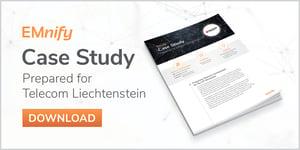 Cloud infrastructure allows IoT projects like this to be deployed almost in no time. EMnify's cloud infrastructure simplifies IoT with a reduced TCO through lower cost, fastest time-to-market and the ability to scale up with your growth.
Our team of dedicated IoT/M2M experts is available to discuss your requirements and help find the best solution for your IoT project. To find out more, you can contact us at mail@emnify.com or call +49-30-5557-33333.