What is cloud native?
The world of computer applications is constantly changing. A key driver of this change is the cloud-native approach - a combination of new development tools, methods, innovative programming languages ​​and new software infrastructures. The core of a cloud-native application is the so-called container. It forms the basic unit that enables the applications to be operated in any conceivable cloud solution. Cloud native is already being traded as the most important concept of future software in corporate IT structures.
Because of the numerous advantages and useful features, cloud native enjoys an excellent reputation. But what does cloud native mean and how does the solution work in detail?
How cloud-native solutions work
If you break down the technology on the infrastructure side, at the heart of it is the container. The container forms the basic unit and can run on various virtual machine platforms (e.g. VMware or bare metal). Containers bring everything that is needed for runnability. They run both on computing nodes and on clusters, which can ultimately be combined. When using cloud native solutions, more than one container is used. This means that adequate scheduling and orchestration services are used to manage, scale, and deploy container applications.
Another important component of cloud-native solutions are the micro services. The idea of ​​micro services is to break down monolithic and difficult to maintain applications into lightweight, fault-tolerant and scalable service units. Micro services are connected via various open interfaces and the components are reusable. An application consists not only of one micro service but of a set of intertwined micro services. Examples of such services are collecting data, reading out sensors or sending messages.
Thanks to this architecture consisting of containers and micro services, cloud-native software is not dependent on the same programming language all the time. Programmers use the tools that they think are best suited for the task at hand.
Cloud-native advantages in IoT practice
– stay one step ahead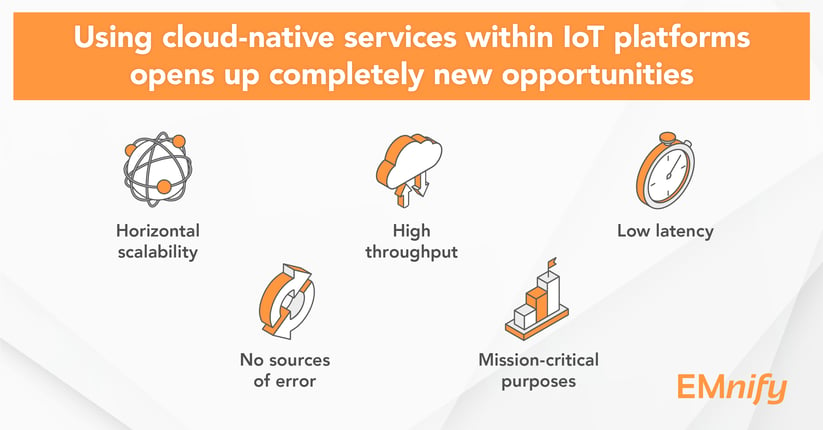 A cloud-native IoT is practically unlimited in terms of the number of supported devices, regardless of the number of computer instances that can be assigned by the cloud infrastructure. Automated scale-up and scale-down of computing and storage capacity is also possible in accordance with the administrator guidelines. The goal here is to cope with sudden changes in the generated IoT data volumes.
Since IoT networks have to process large amounts of data without impairing system performance, the use of massive parallelism is a means of choice to record and process high throughputs of data. On the software side, the so-called "Map Reducing", a programming model, makes it possible to split large data sets into smaller and easier to process packages.
In a cloud-native IoT, low latency is necessary. Optimal latency is essential, especially with regard to innovative topics such as autonomous driving or industrial automation. Edge computing, a cloud-native partner technology, reduces latency by moving computer resources closer to the field domain that an action is performed on.
Sources of error are errors with serious consequences for the operation of the entire IoT network. The containers and micro services already mentioned offer a compact software environment for hosting the individual processes. The design, processor orchestration and management of the micro services on the IoT platform are done in such a way that individual sources of error are avoided.
Mission-critical purposes
Not only are there operational advantages in IoT, but also ones that create direct human impact. IoT technologies can serve mission-critical purposes, especially within the current climate. For example, with the current COVID-19 crisis, access for companies to use fast and reliable connectivity is more important than ever in order to succeed. This is achievable thanks to cloud native and thus creates a drive for faster implementation in the future, as highlighted by EMnify CEO, Frank Stoecker, in this recent interview.
How does cloud native change the world of connectivity?
With cloud native technology, integrating IoT connectivity into business applications has never been easier. Many companies are already developing their IoT environment in the cloud. They not only use highly available and elastic infrastructure but also benefit from a cloud service ecosystem that enables services to be integrated much more quickly. For example, IoT device management, analysis security or artificial intelligence can be seamlessly integrated at short notice.
At EMnify, we recognized the potential early on and offer our customers and prospects an innovative and public cloud platform that was specially developed for mobile network and connectivity management. On this platform, we provide cloud-native services that greatly simplify the integration of cellular connectivity. As a result, customers are guaranteed a fast, simple, secure and scalable integration of mobile connection. Thanks to cloud native technology, we are able to provide the following functions:
With the EMnify Data Streamer, your company receives all connectivity information at a glance. This includes data such as usage and connectivity events as well as cost records. The data transfer to your cloud ecosystem takes place via known interfaces such as Rest API, S3 or Kinesis. Both your support team and your customers get a better overview of the connectivity thanks to this extensive data. In addition, the EMnify Data Streamer is free of charge when using EMnify SIM cards.
Anyone who uses an IoT solution needs IoT security. With EMnify Cloud Connect, your company can integrate the IoT devices into the virtual cloud in just a few minutes without the need for APNs or VPN clients on the end devices. With Cloud Connect, you are able to transfer your data securely to your applications. All online devices can be controlled via remote maintenance via a static IP address. You do not have to use the public internet. In addition, a very reliable integration of issued devices in the virtual infrastructure of your company is guaranteed, since several regions and availability zones are supported.
The infrastructural and software technology concept of cloud native works. With its functions, it offers numerous benefits and advantages for the companies of the future. If you want to make your company fit for the future, you should be working with cloud-native technology. With regard to the use of IoT networks, cloud native acts as an excellent addition.
This blog post only offers a glimpse of EMnify's cloud-native offering. To find out more, consider registering for an upcoming webinar or chatting directly to one of our IoT connectivity experts via the chat box on the bottom right of this page.