Just Released - New Public Beta

EMnify is excited to announce a Public Beta of the new, powerful EMnify Analytics Dashboards - now available to all customers through the EMnify web portal. The easy-to-use dashboards empower you with instant oversight and transparency of global device distribution and mobile data traffic for your IoT devices.
Recently, EMnify customers have requested new functions that enable visual overviews for a number of metrics, such as the geographic distribution of devices, and the ability to build visual reporting dashboards. We've heard you, and are happy to present this tool as a new feature for all our customers.
In this blog post, we will discuss the details of current dashboards available, how to set criteria for your dashboards, and how to get the most out of this new tool.
Overview of Analytics Dashboards
EMnify Data Analytics Dashboards empower you to build custom overviews that can include live usage trends, complete historical comparison data, network events and alerts, and geographic distributions. You can build dashboards for an individual endpoint, or for a cluster of endpoints to gain oversight on an entire project.
This feature was designed to give customers a deeper insight into data consumption, device location, and deployment metrics. The benefits of these new insights are:
Make more informed decisions regarding deployment campaigns

Optimize data usage

Monitor global device deployment
You can find the dashboards in the EMnify portal under "Stats" > "Data analytics".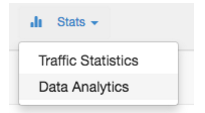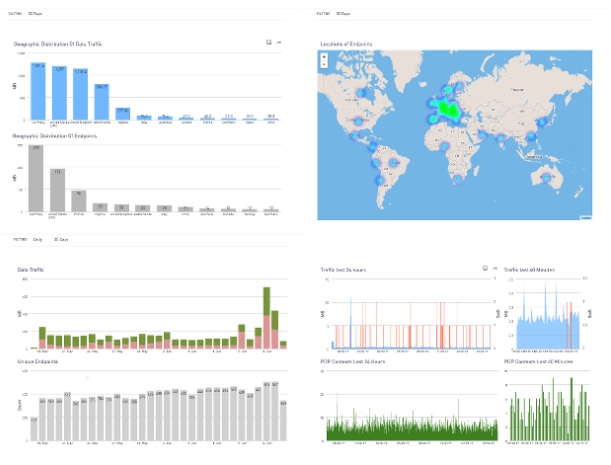 Make more informed decisions
Eight new dashboards have been added, with more features in development. The dashboards enable you to:
View the distribution of mobile traffic over countries and unique endpoints by country

Instantly see device location hotspots on a world map

Search historical data traffic on a daily/weekly/monthly basis, including the unique number of endpoints that consumed traffic

Hourly and by-the-minute traffic level updates (SMS+Data) and the number of PDP contexts created
Below are the details of functions you can monitor with each dashboard.
Current dashboards
Geographic Distribution
This dashboard delivers a world map to give a quick, visual overview of where your devices are located globally. Device location hotspots are indicated by clusters, and when you hover over a cluster, you can see the exact number of devices.
You also see the distribution of mobile traffic over each active country, and the distribution of unique endpoints by country.
Utilize this dashboard to quickly see in which countries the greatest number of devices are deployed, and from which countries you generate the most mobile traffic.
SIM Database
This dashboard provides a quick overview of the total number of SIM cards you own, how many are activated and the number that are suspended. It also details a graph showing the form factor distribution amongst SIMs, if you have multiple different types of SIMs.
Live Traffic
See mobile traffic on each of your endpoints within the last 60 minutes or 24 hours to track details of deployments or testing of devices. This dashboard also enables you to see PDP (Packet Data Protocol) contexts within the same time ranges, letting you know when your SIM is transmitting data.
Traffic History
View data traffic by day for both MB of data used and number of devices consuming data. View this by all active devices, or by a cluster of specific devices defined in a project (by a service profile). This helps you track your data consumption over time to better forecast budgets and understand historical trends. You can choose to view data by a specific country, over a particular aggregation, and customize the date range.
Usage by Endpoint
This report gives you a list of all active endpoints, with name, ICCID number, service profile, tariff profile and data consumption. It provides a broad overview of your active SIM cards and can be filtered by any of the fields above. Use this dashboard when you want to have a more detailed report on all your deployed device.
Data Usage by Service Profile
Quickly view your data consumption by service profile in a graph and a table. Understand the amount of data consumer for each project compared to other projects you are managing. See below for tips on setting up a service profile.
Traffic per Ratezone
Quickly view your data consumption by rate zone in a graph and a table. Gain a deeper insight into the MB consumed per rate zone compared with other zones. If data consumption is much higher in one rate zone, you can get a discount on your data plan for that zone. Learn about your options by getting in touch with our sales team.
Traffic by Mobile Network
Here you can view the breakdown of SIM data consumption based on mobile network operator.
Mobile network operators in the same region, who cover the same territory, can often charge different rates for mobile traffic. With this dashboard, customers can have a deeper understanding of how mobile traffic is distributed by mobile network operator and country, and save money by selecting one mobile network operator over another for connected devices.
Working with Dashboards
Filtering
The eight dashboards above are already active through the EMnify web portal. In most dashboards you can set filters by clicking the top of the chart. There you can select the date range, and some dashboards have additional filters such as country or aggregation. More options are under development. Filter values are searchable, so just type in the value you want to see for it to appear. Many of the filters allow you to select more than one value at a time.
Currently, you will need to set the filters each time you enter the dashboard.
Service Profiles for Project Monitoring
Creating a service profile for each project allows you to monitor that project through the "Usage by Service Profile" dashboard.
A service profile acts to group and categorize SIM cards. You choose the service profile name of your choice (e.g., "Data + SMS", "GPS Global Contract") and then select the SIMs you would like to include. This allows you to keep track of the aggregate data consumption and geographical information of these SIMs easily. Please note that SIM cards can only have one service profile at a time.
Downloading Dashboard Information

Dashboard information can be downloaded into a CSV file by clicking the button at the top right corner of the report. After you filter information, you can refer to it later by saving is as a CSV file. In some reports, you can also download an image of the graph. The dashboards that have this functionality are indicated with a picture download icon next to the CSV download icon in the same location.
If you have any questions don't hesitate to contact us. Our team is always happy to help.
Until next time, stay connected!
Your EMnify team.
Follow us: