In our last blog we looked at the different SIM Form Factors available for M2M deployments using a cellular connectivity solution. We also briefly looked at embedded SIMs (eUICC) and some of the benefits over traditional SIMs. This week, we will look further into the eUICC - what exactly makes it different, why it's been dubbed the evolution of the SIM and how you can get the most out of your embedded SIM.

eUICC in-depth
When talking about the eUICC, people often mistakenly reference it as a form factor – referring to it as the MFF (M2M Form Factor). It's important to make the distinction that the eUICC is not a hardware concept, it is a feature concept for the way SIM profiles are managed. A traditional SIM is provisioned with a single profile which usually has 64KB or 128KB of memory. An eUICC can host multiple profiles and requires a minimum memory of 512KB.
The eUICC works with all SIM form factors: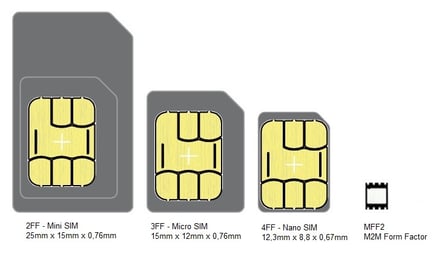 Below we will look at some of the key benefits of an eUICC.

Logistical issues are reduced with an eUICC. Each device has a SIM embedded as soon as it leaves the factory; this negates the need for local logistics and makes it ready for use instantly, no matter where in the world it's deployed to. Your device becomes one component build that works anywhere in the world. In comparison to a traditional (removable) SIM card which is typically inserted into the device at the initial use; for M2M deployments where devices are distributed globally and in remote locations, coordinating the correct installation of the SIM at the correct time can pose logistical nightmares. Installing the SIM during the manufacturing stage also saves costs on production and distribution as well as inventory as you only require a single SKU.

Provisioning your SIM and changing Mobile Network Operators (MNO) is all managed Over-The-Air (OTA) with an eUICC. Traditional SIMs are provisioned with the provider profile of a single MNO. The profile features the information the MNO needs to enable communication/connectivity of the SIM and traditionally, these profiles are locked to the SIM; meaning if you change operators you will need to replace the SIM. eUICC's are able to host multiple provider profiles and can be programmed to use a specific profile or change profile at any time without the need for physical replacement. This empowers you with the ability to make the best connectivity choice for you and your business at any time, without the logistical task and expense of physically replacing your SIM.

Connectivity is enabled out-of-the box. As mentioned above, the moment the device leaves the factory it is enabled to connect to a mobile network, no matter where in the world it is deployed to. This considerably improves time and route to market and ease of access/use for end users.

eUICC - how to get the most out of this SIM evolution
The eUICC has been dubbed the next evolution of the SIM because it enables users with the ability to change provider profiles via OTA. In the last 20 years of GSM connectivity, there has never been a development such as this, to enable remote provisioning of how a SIM card connects globally.

While this is a significant evolution in the way you can adapt your SIM connectivity there is still one major consideration you need to keep in mind when initiating an eUICC deployment: your plan for switching MNOs.

Of course the ability to provision an eUICC OTA makes changing MNOs remotely very simple. However, reintegrating your service profile and associated rules and controls into a new MNOs infrastructure can pose difficulties.

Your connectivity management, billing, and provisioning systems all depend on your service profile and these established rules and controls. It's these dependencies and the potential interruption to them in the event of changing your MNO that you need to consider and forward-plan for when initiating an eUICC deployment.

When selecting a SIM and connectivity platform/provider you need to make sure you understand how they will aid the potential switching process and how it will affect your systems. You should research all connectivity provider options and define a plan for how to manage a change in network provider to preempt any issues or interruptions to the controls your connectivity system depends on.

Some questions to ask:
Will your connectivity provider enable you to connect globally or will you require multiple service contracts?
If you need to switch the MNO for a specific SIM/device, what other aspects of your connectivity system will change? What is the process of integrating your service profile into the new MNO's infrastructure?
What external connections may be interrupted as a result of switching? For example, will there be changes to your addressing settings (IP address, phone number) and how will this affect the services that connect to your devices?
Conclusion
As a business connecting M2M devices globally via a cellular solution, you can't look past the eUICC. The IoT and M2M market is growing exponentially, Gartner predicts that in 2016 alone we will see 6.4 billion connected devices come online. To provide the best environment for this rapid growth, OEMs need to enable devices with the ability to connect instantly and adapt connectivity on the go.

Simply put, the eUICC helps future-proof your connected business and enables the growth of connectivity beyond the initial transaction and into the second-hand market place.

However, as we have also discussed, you need to be informed and aware of how your connectivity platform will cope with changing your MNO. To get the most out of your eUICC connected devices you need to know what systems could be hindered, for how long and what process you can take initially to prevent interruptions to these dependencies.

At EMnify we specalize in connecting eUICC enabled devices to the IoT. If you have any questions relating to eUICC's and the best platform for enabling this technology, please contact us. Our team is always happy to help and offer advice.

You can also sign up to our newsletter to keep up with the latest news and insights.

Until next time, stay connected!
Your EMnify team