Which SIM is best for you and your business needs?
As a business, you have a whole range of technologies and protocols to choose from to enable Machine-to-Machine connectivity; which one you use, greatly depends on the use case. For example, smart home connectivity is mostly provided via Bluetooth variants, while logistics and transportation utilizes cellular M2M connectivity.
For large-scale, global deployments it's generally recognized that cellular M2M connectivity is the most reliable and beneficial connectivity method. This is for a few key reasons:
If you have multiple devices to connect and monitor globally, you need a connectivity solution that is able to travel easily with your device – one that is mobile. Cellular solutions use SIM technology inserted or embedded into your devices, making them completely mobile.

Cellular is a WAN (wide area network) with the long-range ability to connect globally using radio waves that are sent and received via cell-towers. While connectivity depends on the strength of coverage, as well as the number of towers in the area, so long as you are within 16 km (9.9 mi) of a tower you will typically have a strong connection.

Cellular devices can also connect to networks via satellite, this further eliminates barriers to connectivity in even remote areas.
In comparison, WiFi connectivity requires your device to remain within 32 meters of the access point/router, preventing long-range mobility. Similarly, Bluetooth connectivity is also short range, requiring your device to be within 10 – 100 meters of the access point, depending on the power-class.
So, you are in search of a mobile connectivity solution for a large-scale, global deployment– and you choose a cellular solution provider – an important next question will be: what SIM card is best suited to my business needs? Let's now take a look at some of the design options and what you should consider when choosing a form factor.
What SIM is best for my business?
SIM cards come in four standard sizes or forms; these range from 1FF, the first and largest SIM to be developed - no longer use in modern day applications - through to 4FF or nano-SIM, the latest and smallest in SIM design technology. There is also an embedded SIM option – the MFF2.
Below are the dimensions of each form factor:
1FF 85.6mm × 53.98mm × 0.76 mm – as mentioned, no longer used in modern day applications

2FF 25mm x 15mm x 0.76mm - Mini

3FF 15mm x 12mm x 0.76mm - Micro

4FF 12.3mm × 8.8mm × 0.67mm - Nano

MFF2 (embedded SIM)
2FF – 4FF SIMs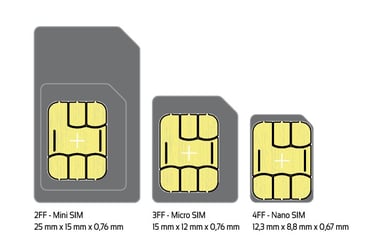 Which size SIM (2FF – 4FF) you select is completely dependent on the size of your device and the amount of space you have to accommodate a SIM. For example: small, collar animal tracking devices may use a Nano SIM, whereas larger devices such as GPS systems used in fleet companies could accommodate a larger form factor.
It is also possible to select industrial-grade SIMs in the form factors 2FF – 4FF. These come with a thicker pin plate to safeguard your device from corrosion, vibrations and other environmental factors, such as extreme temperature conditions. Typically, industrial grade SIMs can withstand temperatures between -40°C and +105°C.
As mentioned, the form factor you select is dependent on the size and space available in your device to host a SIM card. To accommodate one of the 2FF – 4FF SIMs you need to physically have a SIM portal incorporated into the design of your device. Aesthetically this may be a hindrance to your device. Additionally, as standard, these SIMs are not as robust – hence the need to upgrade to an industrial SIM to meet the requirements of your M2M deployments.
An alternate option to the 2FF – 4FF SIMs is the MFF2 embedded SIM; this SIM has a number of benefits that directly address the issues of aesthetics and robustness as well as other provisioning capabilities.
Embedded SIMs are typically the most common choice for M2M applications because they come vacuum sealed and can be soldered directly onto your device's circuit board. This increases reliability in terms of reducing malfunction due to shocks, corrosion and other environmental factors. Additionally, the lifecycle of an embedded SIM is usually 10 years, longer than that of a standard form factor; this means you typically will not have to replace the SIM during your device's lifecycle.
Additionally, the GSMA's Embedded SIM Specification provides a standard mechanism for remote provisioning and management of M2M connections. This allows for "over the air" provisioning of your SIM, meaning you can remotely provision your SIM to connect to an initial operator and subsequently change your subscription remotely from one operator to another. Typically, with from factors 2FF – 4FF, the SIMs are locked to the connectivity provider you have sourced them from, meaning if you change provider you have to physically replace all of your SIMs.
The ability to provision your embedded SIM OTA is vitally important for M2M deployments for two key reasons:
Cost: buying all new SIMs for each of your devices is an inconvenient and costly exercise.

Access: physically accessing all your devices to exchange the SIMs can be virtually impossible in many M2M deployment cases due to assets being spread globally, sometimes in very remote locations.
Another important benefit of embedded SIMs is physical security. Soldering the SIM directly onto the circuit board of your device makes it impossible for anyone tampering with your device to remove the SIM for misuse.
To help you quickly identify the benefits and differences of each SIM option, we have included an assessment table below:
[table id=2 /]
There are a number of options and decisions to be made when initiating a M2M deployment. From what connectivity solution is best for you business, down to the specific connectivity enablers relating to each solution; such as which SIM is best for enabling your cellular M2M connectivity. The most effective way to ensure you are making the best decisions for your business is to keep yourself informed about all the options available to you.
In terms of the best SIM for your cellular M2M connectivity solution, we have exemplified the advantages of an embedded SIM over a regular form factor (2FF - 4FF). An embedded solution is superior in terms of lifecycle, provisioning and the ability to unobtrusively incorporate the SIM into the design of your device.
At EMnify we specialize in cellular M2M connectivity so if you have any questions about SIM form factors or the best connectivity solution for your business, contact us. Our team is always happy to help and offer advice.
You can also sign up to our newsletter to keep up with the latest news and insights.
Until next time, stay connected!
Your EMnify team.